We sell systems from VIQUA – the world's leading supplier of residential and light commercial UV water disinfection systems. The systems are manufactured in Canada and comes with up to 10 year factory warranty.
Not only filtered - but disinfected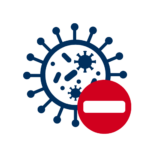 You get a system that does not only filter out dirt and particles that we can see with our eyes but will also effectively kill 99.99% of the harmful microbes that we can not see, including E.coli.
Preserves healthy minerals
Unlike many common systems that removes all minerals from the water, including the ones we need for our well-being, a VIQUA UV system only removes the contaminations.